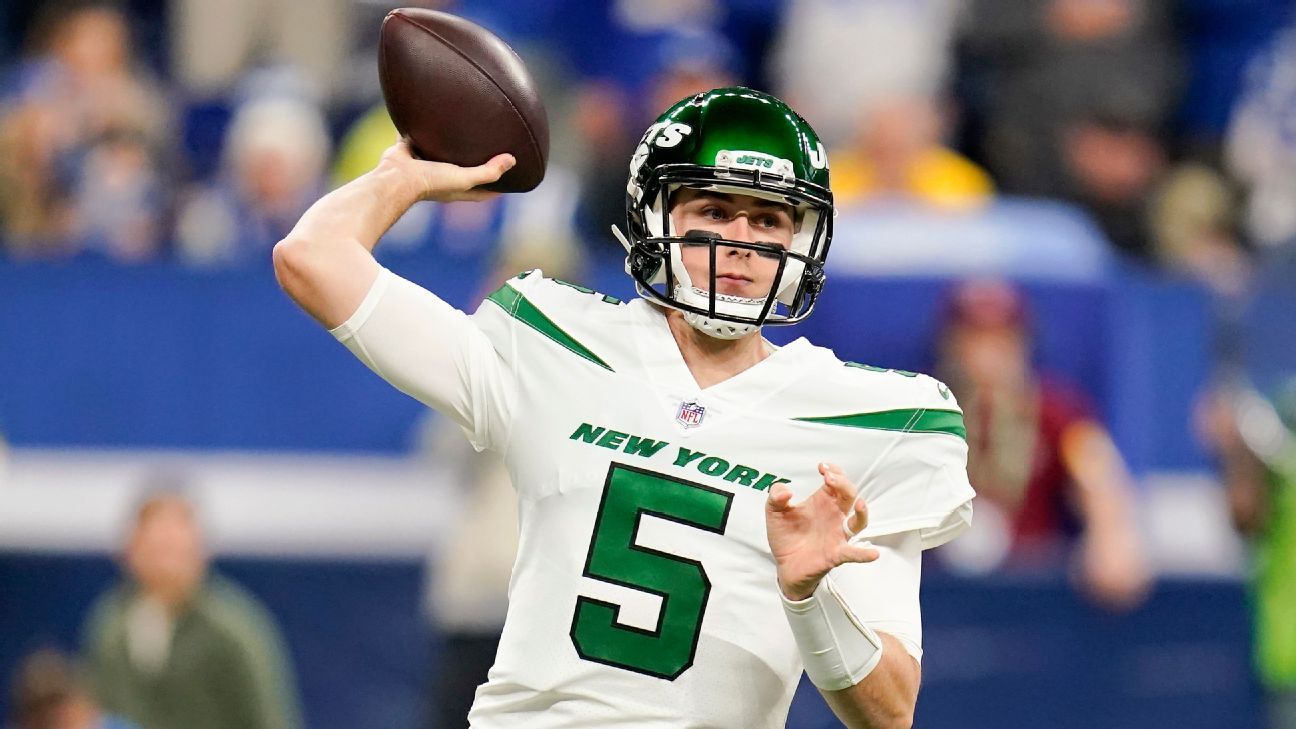 Mike White's storybook run as the New York Jets' quarterback was interrupted Thursday night with a first-quarter injury to his right forearm, but the team expects him to be recovered by next week, setting up a big quarterback decision for coach Robert Saleh.
The Jets, dominated by the Indianapolis Colts in a 45-30 loss at Lucas Oil Stadium, also suffered a crushing injury on defense. The team fears that safety Marcus Maye, one of their top players, tore an Achilles' tendon — a season-ending injury.
"I'm sick for him," Saleh said. "It's not looking good."
Maye tweeted after the game, asking for well wishes and for his teammates to "Hold it down!"
Leaning on my faith. Y'all just pray for me and wish the best for me! I love my teammates more than y'all know! Hold it down! I'll be alright, God got me! 🙏🏾

— Marcus Maye (@alldayMAYE) November 5, 2021
It was still a competitive game on White's final play, a 19-yard touchdown pass to Elijah Moore that made it 7-7. When White got back to the sideline, his forearm stiffened and he couldn't grip the ball. White said he's not sure when the injury happened, but he felt it after the scoring throw.
The feeling in his arm started to return in the fourth quarter, but the game was all but decided by then. Third-stringer Josh Johnson performed well in relief, throwing three touchdown passes.
"We feel good about him getting healthy over the weekend and being ready for next week," Saleh said of White, who made his second start for the injured Zach Wilson (sprained knee). Wilson, too, should be ready for practice, sparking a potential quarterback controversy.
Saleh refused to tip his hand. "We'll see," he said. "It's day to day."
White, the former practice-squad player who excited the Jets and their fan base last week with a 405-yard passing day in his starting debut, didn't do anything to lose the job. In his abbreviated outing, he completed seven of 11 passes for 95 yards and a touchdown. On his second possession, he hit four passes to lead a 75-yard touchdown drive. And then he got hurt.
"It got progressively better throughout the game," White said. "It feels better now, but during the course of the game, I couldn't get enough effectiveness with gripping and power to help the team."
Saleh has been non-committal on his quarterback plans, sparking intense speculation. Wilson, drafted second overall, is the franchise's future, but he was struggling at the time of his injury. White, meanwhile, set a record for most completions (37) by a quarterback in his first start.
"It's not the end of the road by any means," he said. "It's not some season-ending injury. I'll be able to play when my number is called again."
White, already a fan favorite, said it was "frustrating" because the offense got off to a good start. The offense continued to click even after he left, producing 486 total yards. It was the defense that melted down, allowing the Colts to score on eight of 11 possessions.
The injury capped a whirlwind week for White, whose game-worn jersey from last Sunday was displayed at the Pro Football Hall of Fame in Canton, Ohio.
"That'll be something I can take my kids to see when they don't believe I played in the NFL once upon a time," he said, smiling.
The well-traveled Johnson, who has played for 13 teams and saw significant action for the first time since 2018, set career highs with three passing touchdowns and 317 yards but isn't considered a starting option.
The Jets also have veteran Joe Flacco, whom they acquired in a trade last week because of Wilson's injury. He was inactive for the second straight game. Saleh, noting the short week, said there wasn't enough practice time to get Flacco ready for a backup role.
Click Here to Visit Orignal Source of Article https://www.espn.com/nfl/story/_/id/32555366/new-york-jets-qb-mike-white-forearm-questionable-return-indianapolis-colts