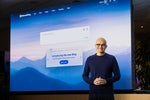 As part of Microsoft's new Windows 11 feature update, users will be able to access the company's new AI-powered Bing directly from the taskbar.
In a blog post announcing the update, Microsoft Chief Product Officer Panos Panay said "the search box is one of the most widely used features on Windows" and therefore combining it with the new AI-powered Bing will empower users "to find the answers [they're] looking for, faster than ever before."
In order to access this new search box, users who are in the Bing preview will need to install the latest Windows 11 update. However, those who do not currently have access to the preview will need to sign up to the wait list.
Click Here to Visit Orignal Source of Article https://www.computerworld.com/article/3688953/new-windows-11-update-puts-bing-chat-front-and-center.html#tk.rss_all