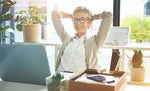 CIOs live it every day. The pace of technological change is lightning-fast. Savvy CIOs navigate this by learning, deciding and taking action with incredible agility and speed. To do that, IT leaders must architect IT infrastructure that enables cloud-like agility and speed across diverse environments.
But they can't go it alone. That's because there are challenges that require an ecosystem of capabilities to solve—for example, complexity at the edge, diverse legacy systems, resource requirements and ongoing concerns about security, governance and consistency.
That's why Dell Technologies and Microsoft are collaborating with customers to solve the most pressing issues CIOs are facing today. The goal is to unlock innovation and ladder up business outcomes, by combining Dell Technologies' leadership in infrastructure platforms and management with Microsoft's expertise in cloud services and enterprise software.
Click Here to Visit Orignal Source of Article https://www.computerworld.com/article/3697150/solving-3-key-it-challenges-to-unlock-business-innovation.html#tk.rss_all