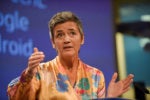 Just weeks after Thierry Breton, the EU commissioner for industry, urged  Europe to make its own chips, the bloc has announced up to $8.7 billion (€8.1 billion) in public funding for building microelectronics and communication technologies.
The funding plan, put together by 14 EU member nations, was created as an  Important Project of Common European Interest (IPCEI), a project category that takes advantage of rules that allow member states to pool resources and cooperate across borders.
While the member states involved in the IPCEI will provide up to $8.7 billion in public funds, another $14.7 billion is expected in private investments, bringing total funding for projects under the plan to over $22 billion, EU Executive Vice President Margrethe Vestager said in a statement.
Click Here to Visit Orignal Source of Article https://www.computerworld.com/article/3699349/eu-to-offer-87-billion-in-aid-to-make-chips-communication-tech.html#tk.rss_all