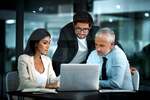 Work management software company Smartsheet unveiled its next-generation platform today, debuting features designed to provide users with new generative-AI powered capabilities at scale.
Work in the Smartsheet platform centers around "sheets" that contain information relating to a particular project or projects, within which users can include a variety of details such as a description, status, due dates, and which workers have been assigned to complete a task.
"Our goal is to make our platform not only powerful, but intuitive, beautiful, and delightful to use. And with this announcement, we're giving customers more and better ways to visualize their work in Smartsheet," said Ben Canning, senior vice president of products at Smartsheet, during a press conference. The company is taking a very practical approach to AI, he said.
Click Here to Visit Orignal Source of Article https://www.computerworld.com/article/3706954/smartsheet-adds-generative-ai-capabilities-to-work-management-platform.html#tk.rss_all