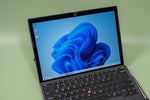 Has Microsoft started to roll out items in Windows 11 that make us crusty old timers finally upgrade, that make us think, "Hmm, that's kinda cool," instead of wanting an older feature back?
It's starting to look that way.
File Explorer tabs
I'm thinking specifically about File Explorer tabs — currently in preview mode — where you can quickly launch a second session of File Explorer with a quick click on "Plus" icon. Until now, we've had to right-mouse-click on File Explorer to open up a new Explorer tab when working on several projects, or moving files between local and network drives. The arrival of tabs, combined with changes to the Task Manager in Windows 11, just might start moving the needle for users who've been hesitant to upgrade.
Click Here to Visit Orignal Source of Article https://www.computerworld.com/article/3675966/bloggers-notebook-file-explorer-tabs-ignite-and-windows-11-22h2.html#tk.rss_all