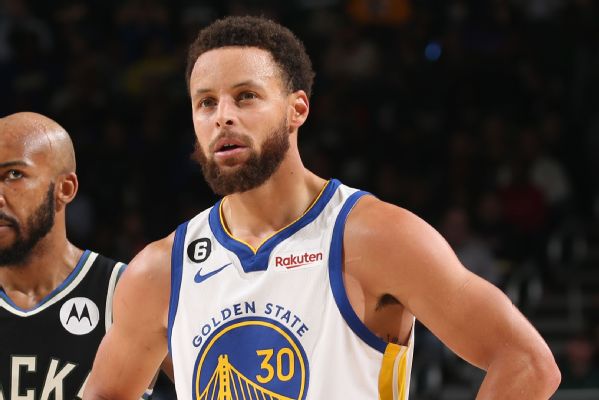 INDIANAPOLIS — Stephen Curry will receive an MRI on Thursday in Philadelphia after injuring his left shoulder in the Golden State Warriors' 125-119 loss at the Indiana Pacers on Wednesday.
Curry suffered the injury with 2:04 left in the third quarter after attempting to strip Indiana's Jalen Smith of the ball as Smith drove to the hoop.
Curry immediately grabbed his left shoulder and continued to hold it as he ran down the court. The Warriors subsequently called a timeout, and Curry was looked at by two trainers on the bench.
A few minutes later, Curry went back to the locker room with Golden State head trainer Rick Celebrini. He was officially ruled out of the game in the fourth quarter.
"I checked in with [Curry] briefly but haven't had a chance to go into detail," Warriors coach Steve Kerr said. "Steph is always a guy with a great outlook on life, so he's in good spirits."
In the locker room after the game, Curry was seen sitting at his locker with his left shoulder wrapped in ice, eating and laughing with teammates. After removing the ice, Curry did not appear to use his left arm much for mundane tasks, such as taking items out of his locker or opening doors.
Before exiting the game, Curry was doing everything in his power to keep the Warriors in the fight against the Pacers. Before walking off the court at halftime, Curry stood under the hoop for a minute, hunched over with his hands on his knees and breathing heavily.
He scored half of the Warriors' points in the first half, putting up 27.
Curry finished with 38 points — nearly half of the Warriors' 80 points at the time of his injury — on 11-of-19 shooting, including five 3s and a perfect 11-of-11 from the free throw line.
"He was just stunning," Kerr said. "He put us on his shoulders in the minutes he was out there. Generating so much offense, getting to the line, getting the ball to other people. He was brilliant."
Through the first half, anyone not named Curry in a Warriors uniform struggled. Kerr said the team was feeling "bad for themselves" and not channeling the correct mindset to get out of their slump.
Losing Curry for an extended period of time — even just a few games — would add more complications for a team that has been struggling to find consistency with a newfound rotation and has found little success on the road (2-13 outside of Chase Center). Right now, the Warriors' issues, lineup-wise, are also extending to their starters.
Jordan Poole scored 20 points against the Pacers but did so on 8-of-22 shooting. Draymond Green finished with 1 point, 2 rebounds and 6 turnovers before getting ejected in the fourth quarter after picking up two technical fouls.
The Warriors were also without Andrew Wiggins, who missed his fifth consecutive game because of an adductor strain, and Klay Thompson, who rested on the second night of Golden State's back-to-back.
"This has been a tough stretch, and if [Curry is] out, it will for sure get tougher," Kerr said. "But we've got to persevere. You just keep playing and keep fighting. It's a long season. The thing I am confident about is that if we're healthy, we feel like we can beat anybody."
Click Here to Visit Orignal Source of Article https://www.espn.com/nba/story/_/id/35255213/warriors-stephen-curry-left-shoulder-exits-early-pacers