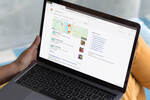 DuckDuckGo, the privacy-centric internet company best known for its search engine of the same name, released a public beta of its own browser for Windows PCs today.
Characteristically, the browser puts user privacy front and center. DuckDuckGo said that the browser (called simply "DuckDuckGo for Windows") boasts "best-in-class" privacy functionality, which is enabled by default. It blocks trackers before they load, which DuckDuckGo said lets it consume fully 60% less data than Google Chrome.
The browser doesn't yet support extensions, but the company said that the built-in functionality replicates some of the most common extension use cases, like ad blocking, privacy, password management, and a "Duck Player" mode for watching YouTube that stops the lion's share of tracking and advertising present on that platform.
Click Here to Visit Orignal Source of Article https://www.computerworld.com/article/3700768/duckduckgo-launches-privacy-first-windows-browser-in-beta.html#tk.rss_all