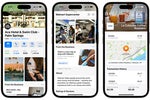 Have you claimed the Apple Maps card for your business? If not, you could be missing out on a chance to reach new customers.
Introduced earlier this year, Apple's Business Connect service lets companies and other entities claim and control the information about their business made available through Maps, Wallet, and Siri search. This public-facing information already exists, but you can do much to improve it when you claim the card.
What does an Apple Maps card do?
The Maps card includes basic details about business names and contact information, but once it's claimed you can also add photos, logos, special deals and links to direct purchases from your business. See it as your first point of contact with potential customers who find you on Maps.
Click Here to Visit Orignal Source of Article https://www.computerworld.com/article/3700575/is-your-business-missing-out-on-a-free-apple-opportunity.html#tk.rss_all